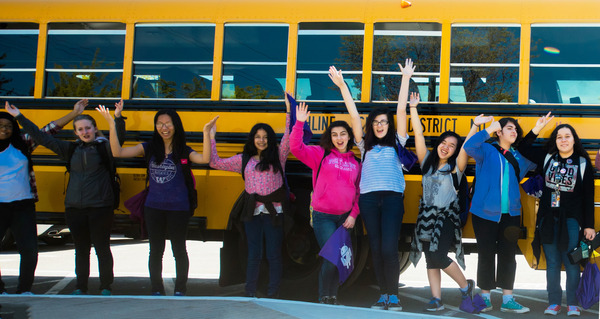 As Techbridge Girls completed its 17th year inspiring girls of color from low-income communities toward STEM careers, we ended another spectacular year of after-school programs in the four regions of San Francisco, San Jose, Greater Seattle, and Washington, D.C.

During that time we also completed a two-year professional development pilot program with the YMCA of the USA in eight states. Additionally, we pulled together a comprehensive guide for creating high-impact STEM field trips called: Field Trip Guide: Planning a Successful STEM Experience for Girls.       
 With all of this, we realized that the demand for our after-school programs surpasses our ability to meet them. This resulted in the launch of a strategic planning process that created new staff positions in each of our three regions and the development of our elementary and middle school after-school program curriculums.
Inspire
The InspireTM curriculum introduces elementary school-aged girls to science disciplines including chemistry, structural engineering, environmental and computer science. The program will offer between 15-20 girls a once-weekly 90-minute session for 12 weeks that will include hands-on STEM activities, career exposure, problem-solving skills and a visit from a role model. Teachers will receive intensive professional development, the Techbridge Girls curriculum, pre-kitted materials and a coordinated role model visit. The role model visit is not only a way to build girls' positive experiences with STEM, but also an opportunity for school-day teachers to build their professional capacity to deliver high-quality STEM enrichment.
Changemakers
Our middle school after-school program, now called ChangeMakersTM, has a new component: girls have the opportunity to create a project that will impact their community. The year-long program will take place at 12 middle schools in three regions in once-weekly 90-minute sessions benefiting 240 girls. ChangeMakersTM includes two field trips to STEM worksites, role model visits and a culminating event for girls to showcase their projects to family, friends and community.
School partners for InspireTM and ChangeMakersTM are strategically selected to create a pattern of STEM enrichment access for girls from elementary through middle schools. In the fall, we will work on a program to continue support for girls through high school.
We are thrilled about these new programs and will keep you updated on our progress!