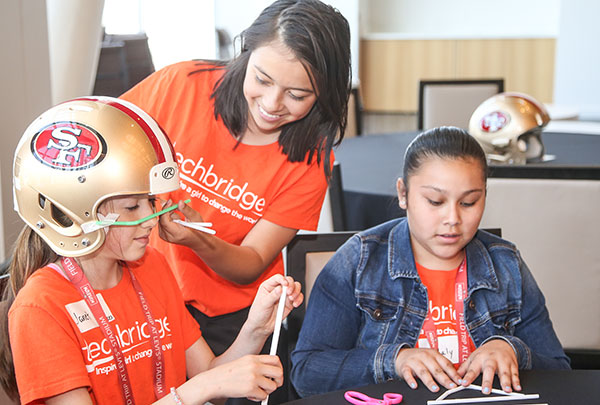 This year, Techbridge Girls served over 300 girls in Oakland, San Francisco and San Jose through field trips, role model visits and family activities.

Our girls participated in a robot design challenge, discovered stop motion animation and experimented with community-impact projects.
They also attended field trips to Chevron, Oracle, Juniper Networks, the San Francisco 49ers' Museum and more. The major culminating event was the Bay Area Maker Faire, where our high-school girls showcased original inventions ranging from a LED tutu to a motion-touch sensor glove.
"For girls who are very interested in STEM, I would recommend this program. It is very hands-on so you don't have to just read about the things in the book, you do it yourselves."

Maker Faire participant
Next year, we will continue our efforts in the Bay Area through our new InspireTM  program for elementary-aged girls and ChangeMakersTM will remain in middle schools. We are also pausing on our high school and San Jose programs to devote more time to revamp those curriculums and bring exciting new activities to these programs.
Additionally, our STEM Learning Community (SLC) in partnership with the Department of Children, Youth and Their Families helped us create a network of 18 nonprofits. For each organization, Techbridge Girls provided an intensive initial training session to help participants learn best practices of delivering high-quality STEM enrichment.
We also provided three observation and coaching sessions and held monthly roundtables to provide additional training and develop a strong network of providers. SLCs are a model which has won acclaim in the Bay Area. Because of its success, we plan to expand it to our Greater Seattle and Washington, D.C. regions in the coming years.
Stay tuned to more news about this in the future!